The holidays should be focused on enjoying time with loved ones, not worrying about finding a gift that's useful (but not boring) and stylish (but not too expensive). Whether you're looking for something that everyone on your list will love or want a few new buzz-y ways to entertain, look no further than Brim's guide to the holidays, courtesy of resident barista Blair Smith.
The Gold-Cup Standard of Gift Giving
I think of giving coffee products as a way of treating people to gifts they didn't know they needed. Everyone on your list will love receiving a coffee maker or grinder that will elevate their daily routine.  
Help your loved one save time and money by making their own cold brew concentrate at home. With the convenient patented smart valve technology, they won't make a mess trying to filter out grounds. This cold brew maker creates a bold, smooth concentrate for 32 servings, with a recommended ratio of 1-part coffee concentrate to 3 parts water or their choice of milk. Available at Williams Sonoma.com, Best Buy.com and HSN.com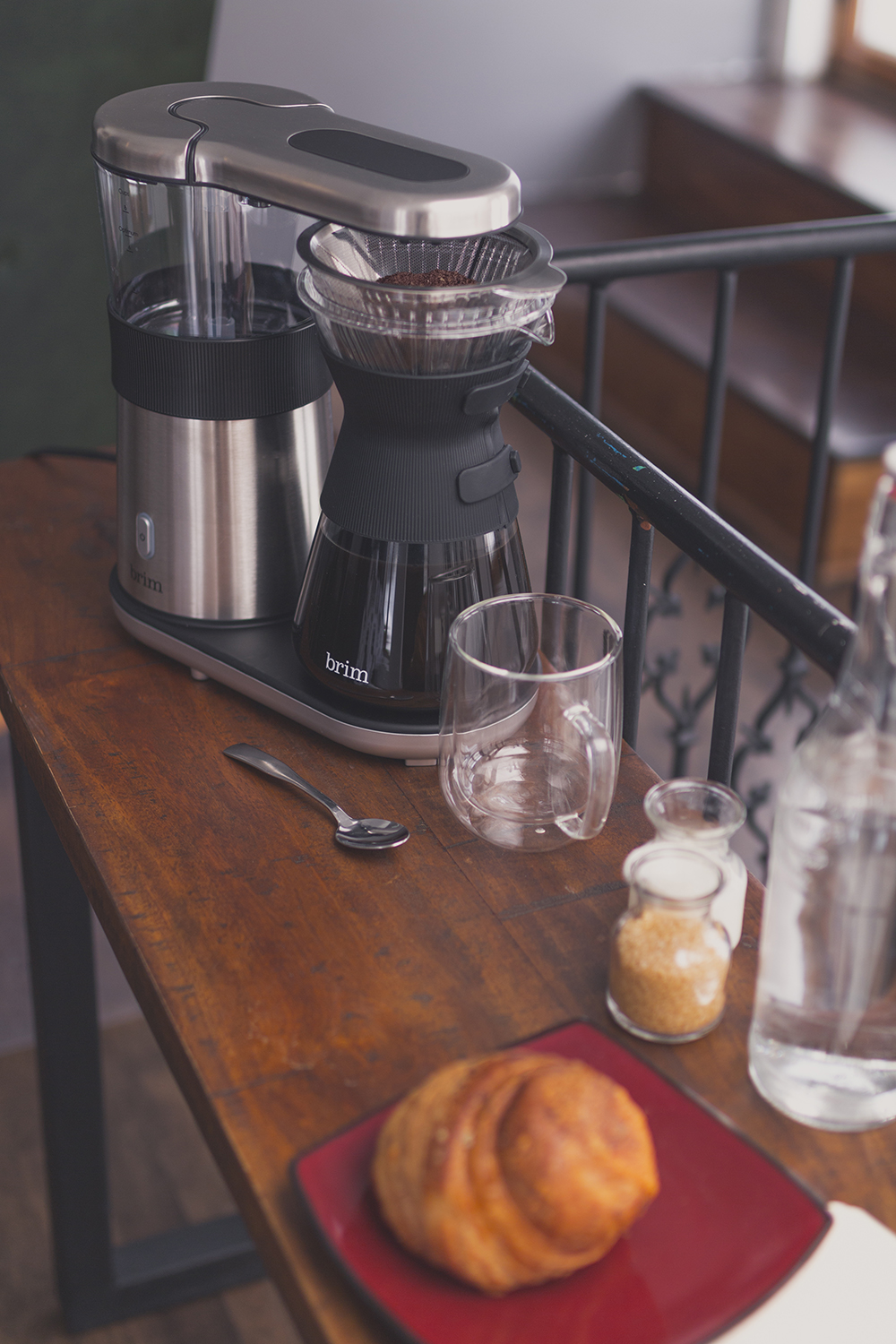 Perfect for the friend or family member who appreciates good coffee but doesn't have time to do pour overs by hand, and convenient for busy professionals that have a daily habit at the nearest specialty café (they'll be amazed at the quality coffee this automatic coffee maker produces). They'll be able to make a SCA (Specialty Coffee Association) Gold Cup Standard cup of coffee by simply pressing a button, all in the time it takes to get dressed and brush their teeth. Available at Williams Sonoma.com, Best Buy.com, Macys.com and HSN.com
Maybe you have someone on your list who is just dipping their toes into the world of craft coffee, who hasn't yet invested in a burr grinder – either of these gadgets will change their coffee-making game. Using burrs instead of blades (which give you uneven, inconsistent grounds), these grinders provide evenly ground coffee, which will result in perfectly extracted, delicious coffee. Both grinders have options for every type of coffee – from espresso to cold brew or French press, and everything in between. The Conical Burr Grinder is perfect for the stylish foodie who wants to display their passion for coffee, while the Electric Handheld Grinder is great for a frequent traveler, or an apartment dweller with limited kitchen space. The Conical Burr Grinder is available at Williams Sonoma.com, Best Buy.com and HSN.com The Electric Handheld Coffee Grinder is also available at Williams Sonoma.com, Best Buy.com, and HSN.com
For the Instagram aesthete – Pour Over Kit
Give your most stylish friend this intentionally designed kit, which has everything they need to slow down and savor the process of making coffee.  The kit includes a laser-etched permanent filter, perfect for those who want a heavier bodied coffee as well as regular paper filters, which are great for those interested in a clearer, cleaner coffee. The carafe is easy to clean and use, and the removable rubber jacket makes hot coffee easy to handle. Available at Williams Sonoma.com, Best Buy.com, and HSN.com
Brewing Holiday Cheer: Sips & Tips
Making coffee for a crowd can be a huge task! Luckily Brim has the equipment, and I have the tricks to save the day.
Tips – how to make craft coffee for a full house
Want to make coffee for a crowd by prepping ahead of time? Use the Brim Smart Valve Cold Brew Maker to make a concentrate the night before your gathering. Then, when you're ready to serve coffee, add 1/3 concentrate to 2/3 hot water and your guests will have delicious, smooth, hot (cold brew) coffee.
For delicious freshly brewed coffee with dessert, I recommend grinding your beans and measuring your water in your 8 Cup Pour Over Coffee Maker as you finish preparing your holiday meal. That way, after everyone has finished their meal and is ready for dessert, all you have to do is press the button and you can serve the coffee to your whole crowd at the same time.
Sips – a couple of my favorite coffee recipes that are full of holiday cheer

When making cold brew, try throwing some peppermint candies or whole cinnamon sticks in after the grounds to infuse while the coffee steeps.
I love eggnog and bourbon around the holidays, and cold brew goes great with both. Simply add these ingredients to your cold brew to taste, and you'll have a tasty treat that won't have you falling asleep after a big holiday meal.
Brim has you covered with different equipment that is just as suitable for gift giving as they are for entertaining – taking the guess work out of treating your loved ones. However you celebrate the season, I hope it's filled with warm and cozy memories, and of course, plenty of homemade craft coffee.