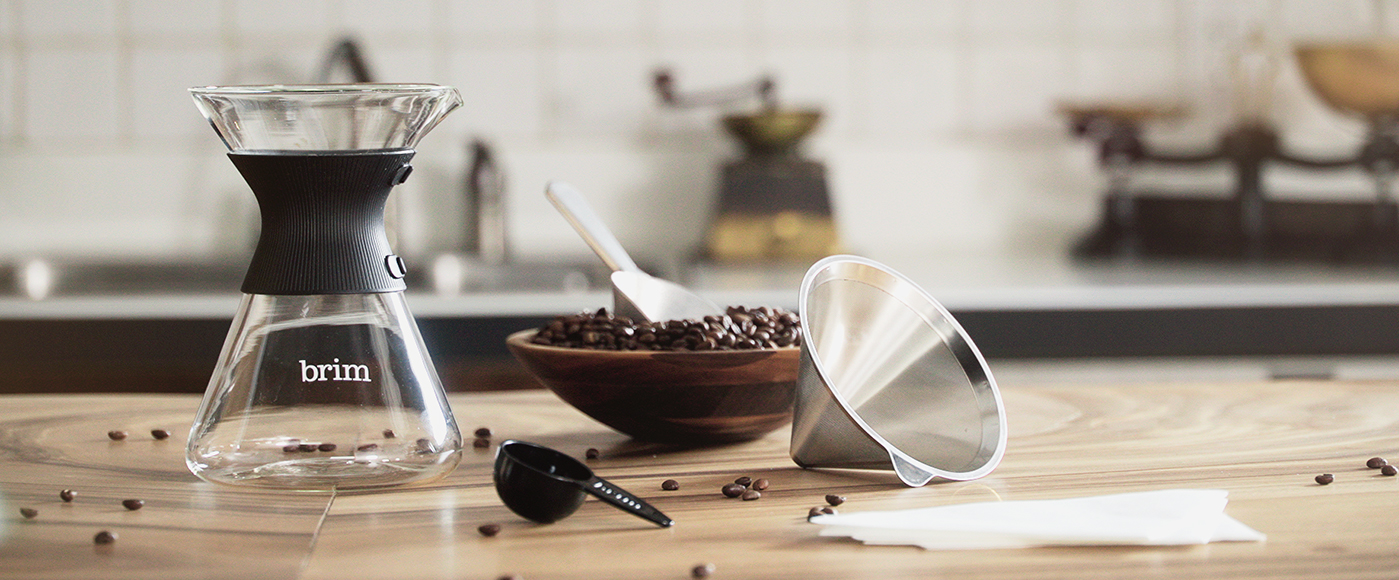 What you
will need
Brim Pour Over Coffee Kit
Laser etched permanent filter
6 Cup glass decanter
Silicone cool-touch sleeve
20 pack of paper filters
Measuring scoop (8.25g)
Other items
Coffee beans
Scale
Measuring bowl for coffee beans
Gooseneck kettle
Step 1
Measure to perfection
Precision is the key. The first step is to measure your beans. For 6 cups we will need 37 grams. Place a container on the scale and press the "zero" or "tare" button so that you get the weight of the beans only.
Play video
Step 2.1
Grind to perfection
We suggest using the Brim Conical Burr Grinder. The grinds produced by this grinder will be uniform in size which results in consistently better tasting coffee. By setting it to medium, you get a coarseness similar to filter coffee.
Play video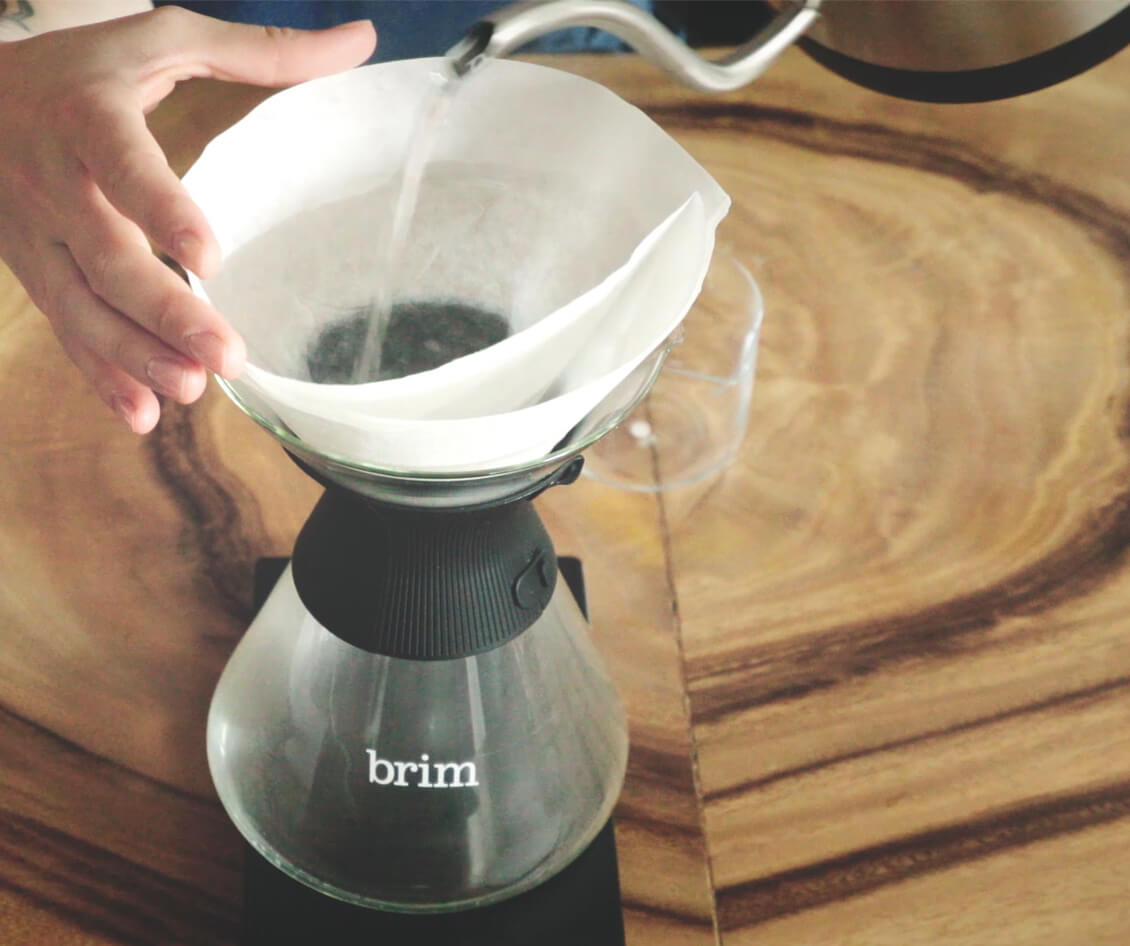 Step 2.2
Rinse the paper filter
The filters come pre-folded, open one side, leaving three layers of paper on the other. Place the filter with the three layered side against the spout. We are going to be doing 3 pours, 1 to rinse, 1 for blooming, 1 turbulence and extraction. Our first pour is to rinse the filter. Pour a little hot water around the edges wetting the filter to remove impurities. Don't forget to pour out residue water.
Play video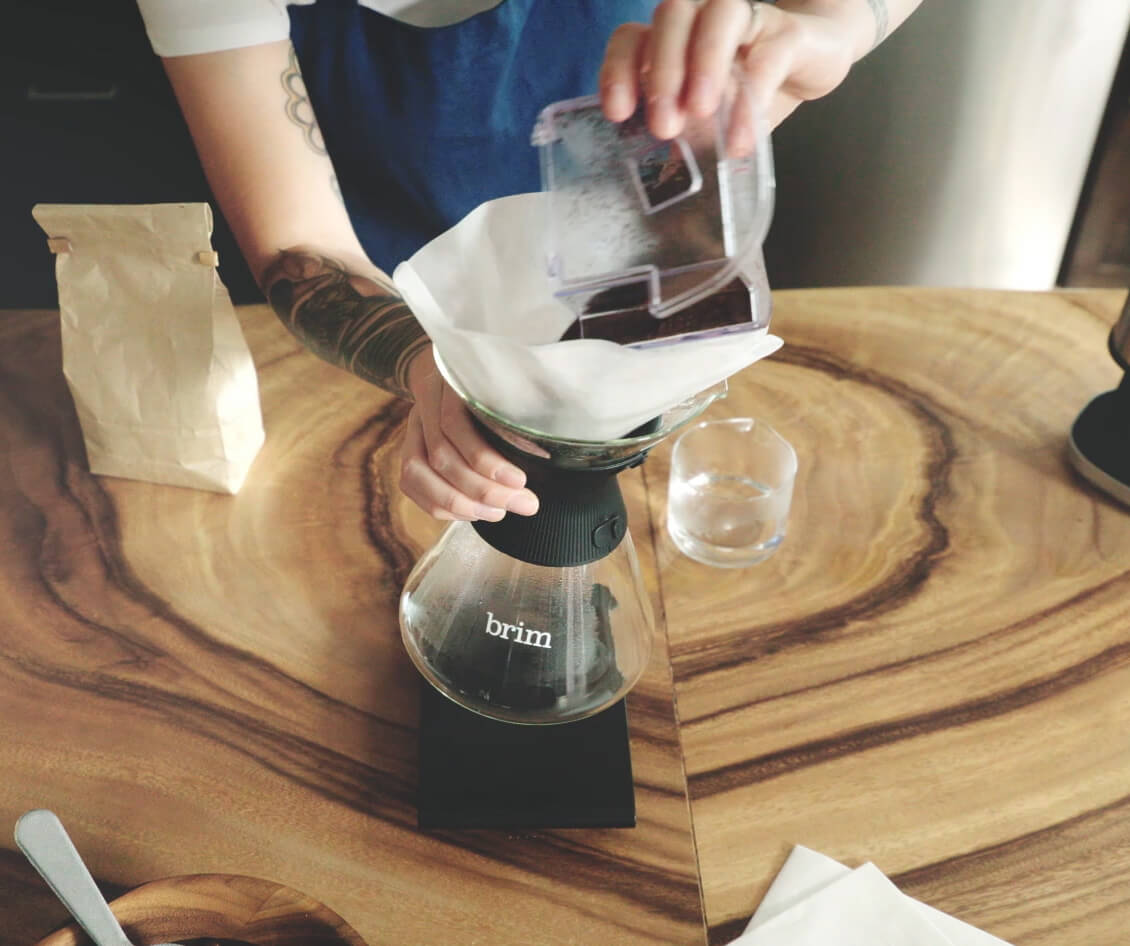 Step 3
Magic of turbulence
Add the grinds to the filter and give it a quick shake to level it out and then place the decanter on the scale and set it back to zero. Now for pour #2, this pour starts the blooming process. Gently pour over the coffee grinds in a spiral motion starting on the inside. Pour until the scale reaches 80 grams. As water hits the grinds, the coffee gases are released which causes the grinds to puff up. This delicate reaction is what we call the blooming process. Some roasts tend to bloom more than others.
For pour number 3, Zero your scale again and start pouring at the outer rim moving towards the center. This pour is 580 grams which will leave us with a 1/15 ratio, allowing for nice balance. This pour will take some time. Turbulence and extraction are an important part of this process allowing the flavor profiles to shine so don't forget the slow spiral motion. If the water is reaching the top of the decanter, stop and let it settle to the halfway point and then begin pouring again until you reach the 580 grams.
Play video
Step 4
The Obsession of exquisite tasting coffee
This whole process should take about 5 minutes. When you can see that the dripping has almost stopped, remove and discard the filter. Now you are ready to enjoy an amazing cup of coffee.
Play video